It's time to plan your recurring subscription product strategies for 2023. Manage subscriptions easily and create automated promotions to boost your subscription club in Brazil, Latin America's largest e-commerce market.
The New Year is just around the corner, and companies all over the world are developing strategic plans to bring in new customers and increase customer loyalty.
According to a study carried out by Visa, expectations are that by 2023 online purchases in Brazil will reach US$ 171 billion – representing 54% of Latin America's online sales volume.
So how can brands increase their sales and build customer loyalty? The answer is simple: with subscription services!
The subscription market is booming worldwide. According to The Business Research Company, this segment is expected to generate nearly US$1 trillion by 2026.
A survey carried out by Capterra showed that 86% of respondents would subscribe to a product from a brand that they already consume. This means that 2023 is the year to set up strategies for recurring subscription products. Here's how!
Set up campaigns and promotions with an efficient recurring subscription management solution
To achieve excellent results with your online sales in Brazil, your business should use the most up-to-date solutions possible.
In the subscription market, this is no different. Your business should offer much more than simply a recurring service; it is important to offer an excellent experience to the consumer and set up a well-defined annual strategy.
To achieve outstanding results in the subscription market, your business must rely on an intelligent subscription management solution. PagBrasil provides merchants with its sophisticated PagStream®, which offers flexibility to both businesses and end customers.
With PagStream®, your online store can diversify the offering of subscription products, customize the frequency of recurring payments, promote special offers, and provide end customers with access to the Subscriber Portal so they can independently update their subscriptions.
All of this can be done directly on the PagBrasil dashboard without the need for any coding. With the exclusive PagStream® Promotion Engine, merchants can easily set up automated and personalized campaigns.
PagStream® Promotion Engine, a sophisticated solution to create promotional campaigns for recurring subscription products
PagBrasil customers can now create special promotions for their consumers without any sort of technical complexity, directly through the PagBrasil dashboard.
"The PagStream® Promotion Engine provides a unique experience when automating subscription promotions. Merchants can automate processes that would previously be done manually via the dashboard, without having to rely on a developer," explains William Goulart, Development Director at PagBrasil.
With simple combinations, it is possible to create rules that set up actions to be performed when certain conditions are met. Let's look at some practical examples:
Promotions for important dates for Brazilian e-commerce in 2023
As we mentioned earlier, offering an exceptional subscription service means providing exclusive experiences to consumers – and this includes benefiting from the 2023 Brazilian celebratory dates to create promotional actions.
It can be very easy to create promotions in a fully automated way for recurring subscription products. For example:
A vitamins & supplement company can offer a discount so consumers can start 2023 with even more energy. The brand can offer, for instance, a 10% discount for new subscribers in January.
For Consumer Day, how about offering free shipping to new subscribers during the celebratory week? You can even customize and offer free shipping to certain regions in Brazil – or maybe the entire country if this strategy suits your business.
On dates such as International Women's Day, it is possible to offer a freebie for March subscribers. If you own a coffee brand, for instance, you can give away a personalized cup for the date, which will be sent along with the products in March.
Better yet, all these campaigns and rules can be set up by merchants themselves without involving a developer.
Learn how to create rules with the PagStream® Promotion Engine
Creating a special promotion for recurring subscriptions has never been easier!
The PagStream® Promotion Engine is simple to use and allows for easy promotion customization.
Here's a step-by-step guide to creating rules with PagStream® Promotion Engine: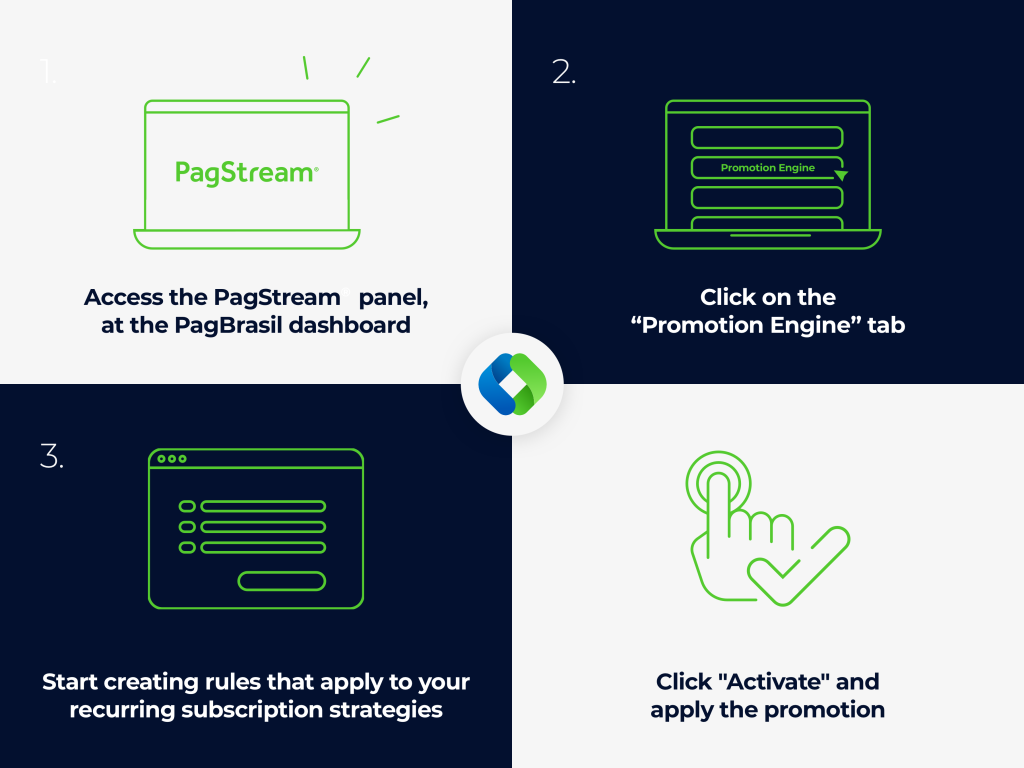 To create the rules, merchants must assign a name to the rule, and in the "Number of renewals" field, determine the number of times that this rule will be applied to the subscription.
Attention: Promotions will only be applied to subscriptions on the renewal date, not when the rule is created.
Setting up the rule:
1 — In the "When a subscription matches…" layer, merchants can define a condition to be applied to the subscription. They must indicate in the "Type" field one of the options below:
Amount
Amount (without shipping fee)
Products
Renewal number
Address state
Subscription creation date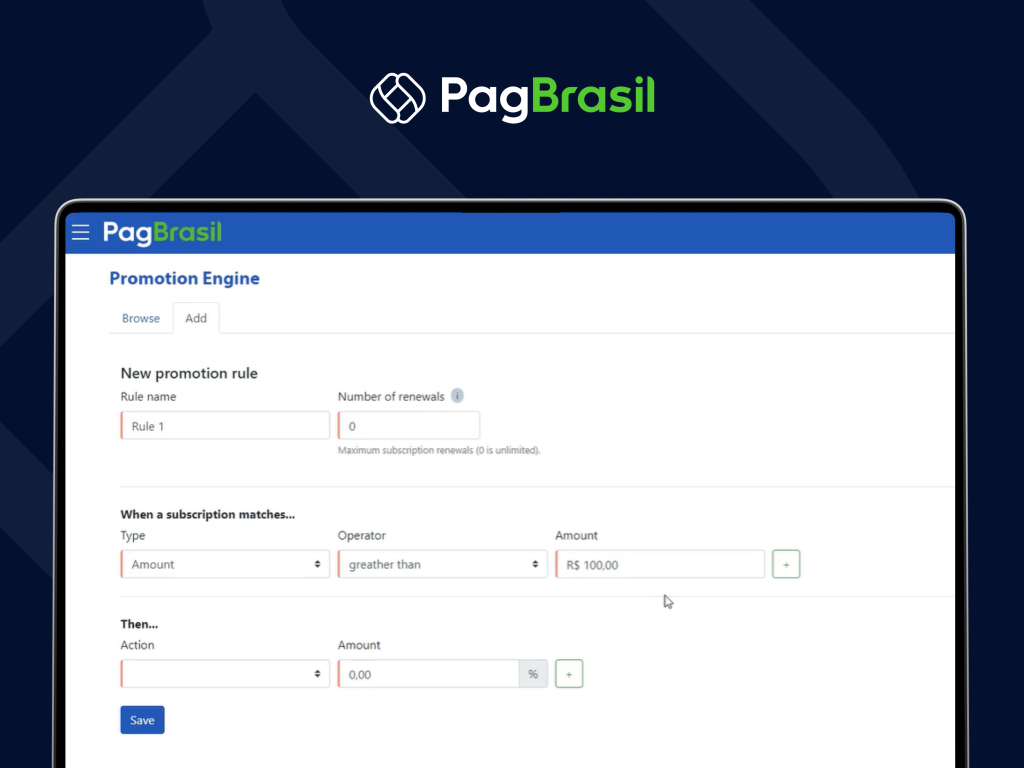 2 — In the "Then…" layer, merchants select the action to be taken by the rule. In the "Action" field, merchants can opt to:
Offer a discount on the product
Add a product to the subscription
Provide a full discount, or
Provide a shipping discount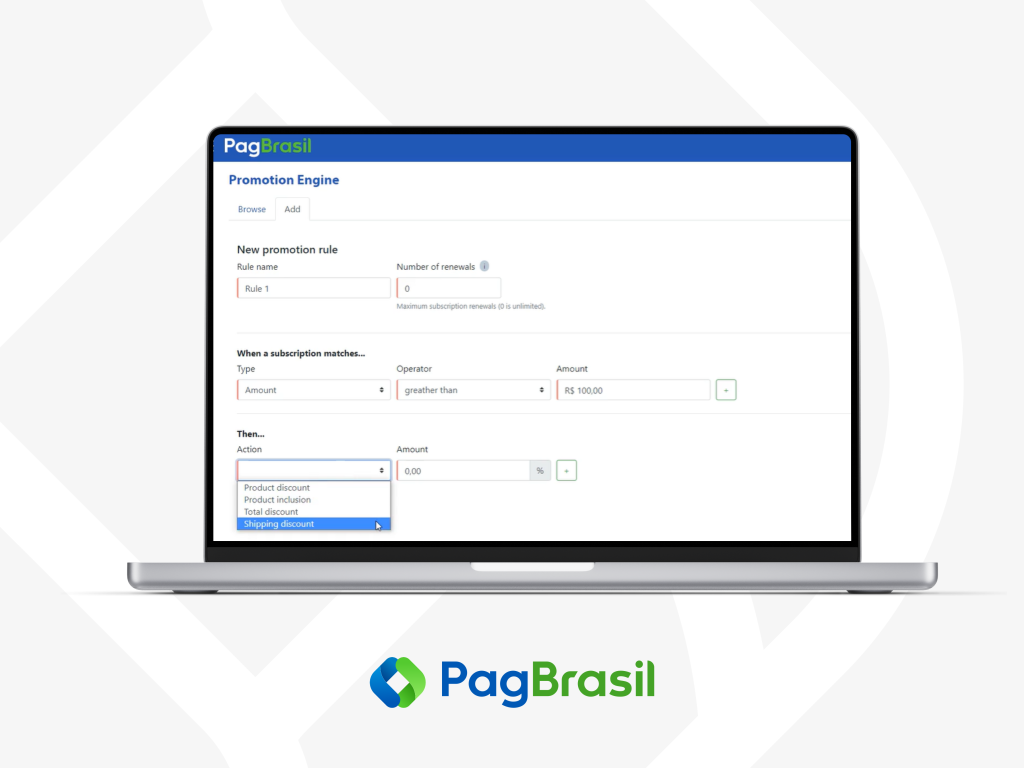 Examples:
a) Suppose an online store offers a monthly subscription with 12 recurring payments and wants to apply a rule that will only be applied to three of these recurring payments. In that case, the merchant must enter the number 3 in the "Number of renewals" field. To apply this rule without limit, the merchant must enter the number 0 (zero).
b) If a merchant chooses the condition "Amount" in the "Type" field, then the merchant can choose between "greater than", "less than" or "equal to" in the "Operator" field and, subsequently, enter a BRL amount in the "Amount" field. This condition will determine what kind of benefit the subscriber will receive when their subscription meets a certain requirement. For instance, if their subscription is greater than R$ 100,00, the rule will be triggered, and the customer will receive the benefit that the merchant defines in the "Then…" layer (such as shipping discount).
c) Suppose a merchant wants to offer a discount on a future recurring payment. In that case, they can enter the specific subscription number by selecting "Renewal number" under "Type" in the "When the subscription matches…" layer and then enter the number in the "Number of renewals" field. For instance, if the merchant wishes to offer a discount for only the 10th recurring payment, the number 10 should be entered in the "Renewal number" field.
3 — After applying the desired rules and saving them, an action review screen will appear on the dashboard page so that the merchant can double-check the details of the promotions created. Then, the merchant must click on the "Activate" button to activate the created rule. In this review screen, merchants can view all the subscriptions that fit the created promotion. And in the "Subscriptions" panel, the merchant can view all the subscriptions that have rules applied.
Some cases might require multiple promotion rules. For instance:
Let's say the merchant has a wine subscription club and wants to give some subscribers a limited-edition bottle as a gift, but only on the third recurring payment, which is when this special edition will be launched; in addition, the merchant also wants to offer free shipping on the next two recurring payments for all subscribers. In this case, the merchant must create separate rules for each action.
As we can see so far, the possibilities are countless. With the PagStream® Promotion Engine, your subscription club is even more personalized, automated, and hassle-free!
And there's more: at PagBrasil, merchants can even request the creation of new combinations for the construction of rules for recurring subscriptions, according to the needs of each business.
Watch the video below to learn how to set up rules with the PagStream® Promotion Engine!
Get in touch to find out more about PagStream® and all its features!