PagStream®, PagBrasil's solution for subscription management, is all about flexibility, simplicity, and giving consumers control over their subscriptions.
PagBrasil now adds a hosted self-service portal to its intelligent subscription management solution that allows customers to manage their subscriptions on their own. Merchants that use PagBrasil's integrations for Shopify, Salesforce, or WooCommerce can enable the subscriber portal for their customers without developing any code.
The self-service portal allows customers to update card details, change payment methods, or edit, manage and cancel their subscriptions, among other benefits.
Giving customers control over their subscriptions also results in fewer support tickets and lower churn rates. It encourages consumers to change their recurring purchases instead of canceling the entire subscription when they just want to change a product item, for instance.
Read more: From Streaming to SaaS: Why the Subscription Payment Model is Set to Skyrocket in Brazil
The benefits of the PagStream® Subscriber Portal
     

Allow customers to update and change their payment method
Failed credit card payments are one of the main factors that end a subscription involuntarily while maximizing customer retention is critical for the profitability of any subscription business.
PagStream® provides effective capabilities to update or change a payment method to ensure successful payments throughout the subscription lifecycle.
Users can easily update their credit card details in the new subscriber portal. When a card expires, it is canceled, or the credit card limit is exceeded, users can access the subscriber portal and change card details themselves without needing to get in touch with customer support.
Credit cards often come first to mind when we think of recurring payments. PagStream® offers Brazil's most popular alternative payment methods besides the traditional credit card, including PagBrasil's exclusive Boleto Flash®, PEC Flash®, and PagBrasil Pix.
So, if users wish to change their payment method, they can do so in the subscriber portal.
Alternative payment methods, such as boleto bancário and Pix, represented nearly 45% of payment methods for digital transactions in Brazil in 2021.
     

Notify customers of failed payments
Most subscriptions are paid with credit cards. However, sometimes the transaction fails, and the customer's credit card payment is declined.
If this happens, PagStream® will automatically notify customers, requesting them to access the subscriber portal and change their payment method to another credit card or local alternative form of payment such as Boleto Flash® or Pix.
On top of that, customers will also get notified if they don't complete payments within the time limit defined by the merchant.
Read more:  5 reasons that made Black Tucano choose PagBrasil for subscription management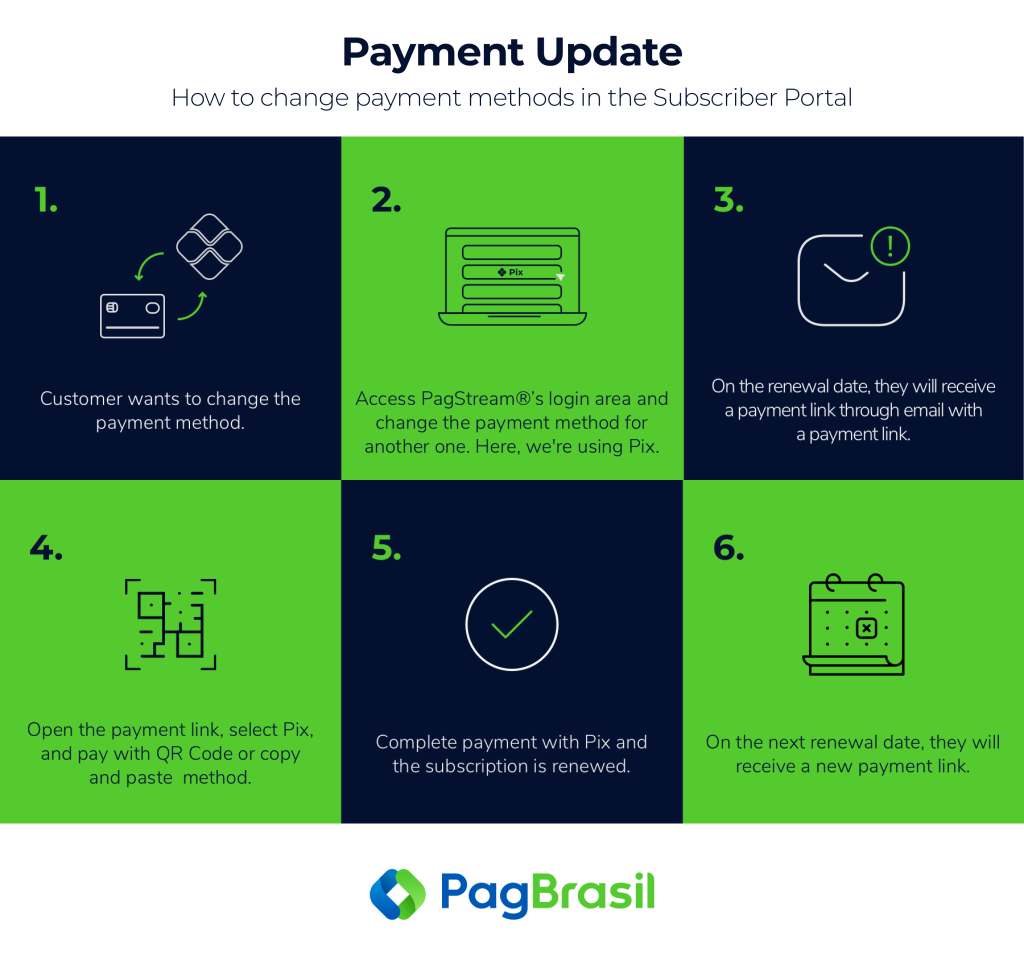 Managing multiple subscriptions in one place
Now, all subscriptions, even from different stores, set up with PagStream®, can be viewed and edited by the customer in a single place. The payment history is also accessible in the same environment.
 

Upgrade, downgrade or change subscribed items
Merchants selling physical goods or services under a subscription model can let their consumers optimize and manage their subscriptions, upgrade or downgrade the number of subscribed items, and completely remove or add new items from the product catalog in existing subscriptions.
The merchant's Shopify product catalog is automatically synchronized with PagStream®, and the merchant can define the products selectable for subscriptions.
Read more: Driving Digital Inclusion with Boleto Recurring Payments
     

Cancellation of subscriptions
The customer portal gives the consumer the autonomy to cancel a subscription at any time without the need to get in touch with customer support. 
Making subscription cancelations easier for the customer might sound counter-intuitive, but making it difficult might cause eventual loss of customers. A confusing and complex cancelation process can hurt a company's reputation and customer experience.
Merchants don't need to worry about unsubscribers going unnoticed , as they will receive a notification once a customer gives up on their subscription.
PagStream® collects customers' feedback when consumers cancel their subscription. This way, merchants can learn why they decided to cancel their subscriptions in the first place and work on improving their service.
Read more: How to Avoid "Subscription Fatigue" and Boost Subscribers' Loyalty
The subscriber portal is a self-service area for customers to manage their subscriptions using PagBrasil's subscription management solution, PagStream®.
Learn more about our hassle-free subscription management solution with a ready-to-use setup, whether you are a streaming platform, e-learning website, SaaS, subscription club, or something else. Get in touch with our team to learn more!