For Local Credit Card Processing a Brazilian Payment Service Provider is Required
PagBrasil / Payment Methods / Credit Cards
Domestic Credit Cards
Brazilian National Credit Cards
Credit cards are the number one payment method for online purchases. However, credit cards issued in Brazil, even Visas and MasterCards, are often restricted to national purchases in Brazilian real. In addition, credit card payments with installments are an absolute must in Brazil. For both, a Brazilian payment processing partner is necessary.
Payments with Installments
Brazilians are used to financing their consumption by paying in installments. These installment credits are offered and financed by the merchants. Today, when the buyer is given the choice, for 75% of all online card transactions consumers take advantage of installment payments. Depending on the market segment, it can also be less than or up to 90% of all credit card transactions. By offering installments, merchants can boost sales by 50% or more. The preference for installment payments is independent from the product type sold and even from the ticket size.
PagBrasil offers up to 12 installments for all eight credit card labels. Anticipated payout to the merchant of the entire payment amount and 100% of the default risk is covered, should a customer fail to pay any of the installments.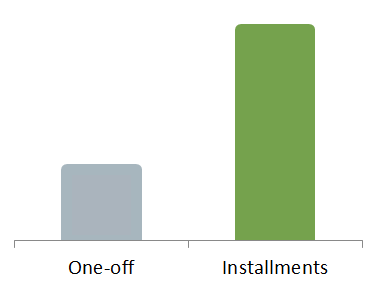 Credit Card Labels
Visa and MasterCard are the leading credit card labels in Brazil, with local labels Elo and Hipercard also playing a considerable role. In addition to these labels, PagBrasil also processes Amex, Diners and the Brazilian brands Aura and Cabal. Elo, the most famous local brand, is a joint venture of three major Brazilian banks: Banco do Brasil, Bradesco and Caixa Econômica Federal, and Hipercard is a label issued by Itaú. Because of the large banks behind these two labels, a further share of the market is expected over the coming years.
PagBrasil offers installments for all the following supported credit card labels:
Visa
MasterCard
Diners
Amex
Hipercard
Elo
Aura
Discover
Most credit cards issued in Brazil, including Visa and MasterCard, are closed to processing with a non-Brazilian acquiring partner. As a local Brazilian payment service provider, PagBrasil can process the full range of national credit cards, as well as international ones, for both Brazilian and foreign merchants.
Pre-authorization and Partial Capture
PagBrasil also supports credit card pre-authorization and partial capture for national credit cards as well as international ones. Please read here for more information or consult PagBrasil's integration manuals.
Recurring and One Click Billing

Recurring and one click billing are also fully supported. Read more about recurring payments by PagBrasil.
Contact us to find out more about credit card payments in Brazil and PagBrasil's services.