Easy and quick integration that flexibly adapts to your needs
PagBrasil / Integration
Quick and flexible integration
PagBrasil offers easy and flexible solutions for your business, regardless of the e-commerce platform you are using. Integration can be done in a few days including testing. Our clients gain access to all of our payment methods, including national credit cards, debit cards, boleto bancário and online transfer methods, by implementing only one API.
We offer three integration options for online payments and one for offline payments. A seamless and trustful buying experience will result in high conversion rates.
1) Application Programming Interface (API)
Our fully transparent API allows you to use your own payment page connecting it via our API directly to our payment processing platform. Using this alternative your customers will never have to leave your payment page. Communication via https posts allows compatibility and easy integration with any e-commerce platform, online store or ERP system. Your company needs to be fully compliant with the PCI security standards for API usage.
2) iFrame
If you prefer the payment data not to flow through your systems, the easiest way to implement PagBrasil's payment methods is to embed our PagBrasil iFrame into your website. Your customer will pay via a secure payment form hosted on our servers and have the same seamless buying experience. The URL displayed on this page is yours, so remember to secure the page via SSL to provide reassurance to your customers. The iFrame is fully customizable and responsive, adapting the payment form perfectly to any mobile screen resolution.
3) Offline payments
PagBrasil also has solutions for processing offline payments for sales via call centers, IVR systems or manual collection of specific goods or services sold into Brazil.
4) PagBrasil Magento Extension
PagBrasil's Brazilian payment methods can be easily added to the merchant's Magento store by installing our Magento plugin which is available for free download at the Magento Extension Marketplace. It supports domestic credit cards, debit cards, boleto bancário and online banking transfers. You can adapt the PagBrasil Magento module to your individual needs by adjusting a number of parameters, such as the number of credit card installments, the number of days until a boleto bancário expires, the soft descriptor that identifies the payment on a credit card statement, an individual message shown on a boleto bancário and many other options. We have made the PagBrasil Magento Extension responsive, so that it perfectly adjusts to any mobile screen resolution.
5) PagBrasil WooCommerce Extension
The plug-in allows merchants to easily add the entire broad set of Brazilian payment methods by simply installing the WooCommerce extension, which is available for free download at the WordPress dashboard. All major Brazilian payment methods are supported by the extension, including domestic credit cards, local debit cards, boleto bancário and online banking transfers and merchants can adjust a number of parameters of the plugin to adapt it to their needs.
6) PagBrasil Shopify Extension
The extension gives easy access to all Brazilian payment methods offered by PagBrasil. Merchants who are using the Shopify e-commerce platform can now offer their products and services in Brazilian Real to their local customers. The payment methods supported by the plug-in include local credit cards, domestic debit cards, online banking transfer, boleto Bancário and even Boleto Flash™. This exclusive payment method developed by PagBrasil provides payment confirmation for boletos within a few hours. In addition, merchants can adjust different parameters to suit their individual needs, such as the expiry period for boletos, the number of installments for credit cards or the text (soft descriptor) that helps customers to identify the payment on the card statement.
Support team
Our support team is committed to promptly assist and to respond to any request of our clients.
Reporting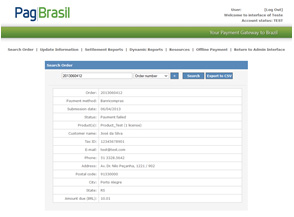 Sales and transaction status data is available at any time via our API and the web based PagBrasil Merchant Interface.
The PagBrasil Merchant Interface gives our clients the possibility to search for specific orders and to generate real-time reports, download them and view them in Excel or other applications. In addition, reconciliation reports for each settlement period are made available for download.