Quick and Easy Integration that Flexibly Adapts to your Needs
PagBrasil / Integration
Quick and Easy Onboarding
PagBrasil offers easy and flexible solutions for your business, regardless of whether you are using an online store platform or a proprietary e-commerce solution. Integration can be done in a few days, including testing. Merchants using PagBrasil can offer their clients the broadest set of Brazilian payment methods, including national credit cards, debit cards, boleto bancário and online transfer methods, with only one integration.
PagBrasil offers four integration options for online payments: API, iFrame and extensions for e-commerce platforms. We have plugins available for Magento, WooCommerce, Shopify, Prestashop, OpenCart, VTEX and Shopware. We even provide a Payment Link alternative. This way, you can set up a seamless, flexible and secure buying experience that will deliver high conversion rates.


Application Programming Interface (API)

Our fully transparent API allows you to use your own payment page, connecting it via our API directly to our payment processing platform. Your customers will never have to leave your payment page or your domain. Communication via HTTPS posts allows compatibility and easy integration with any e-commerce platform, online store or ERP system. Please take into consideration that your e-commerce platform needs to be fully compliant with the PCI DSS security standards for API usage. If that is not the case, you might want to use our iFrame to ensure that your company is compliant.




iFrame

If you prefer the payment data not to flow through your systems and if your e-commerce platform is not PCI DSS compliant, the easiest way to implement PagBrasil's payment methods is to embed our PagBrasil iFrame into your website. Your customer will pay via a secure payment form hosted on our servers and have the same seamless buying experience. The URL displayed on this page is yours, so remember to secure the page via SSL to provide reassurance to your customers. The iFrame is fully customizable and responsive, adapting the payment form perfectly to any mobile screen resolution.




Extensions Developed by PagBrasil




PagBrasil Magento Extension

PagBrasil's Brazilian payment methods can be easily added to the merchant's Magento store by installing our Magento plugin, which is available for free download at the Magento Extension Marketplace. Check for full information on the supported features of our Magento extension.




PagBrasil WooCommerce Extension

The plug-in allows merchants to easily add the entire broad set of Brazilian payment methods by simply installing the WooCommerce extension. All major Brazilian payment methods are supported by the extension, including domestic credit cards, local debit cards, and boleto bancário.




PagBrasil Shopify Plugin

The extension gives easy access to all Brazilian payment methods offered by PagBrasil. Merchants using the Shopify e-commerce platform can sell their products and services in Brazilian real to local customers. Learn more about the full feature set of our Shopify plugin.



PagBrasil Prestashop Module

The module provides merchants using the Prestashop open source e-commerce platform with instant access to all Brazilian payment methods offered by PagBrasil. Selling in Brazilian real to local customers is now easier than ever thanks to our Prestashop module. Learn more about all the features and services compatible with our Prestashop module.



PagBrasil VTEX Extension


The VTEX plugin is easy to integrate, requiring no technical knowledge at all. It supports domestic credit cards and boleto bancário. Please check PagBrasil's VTEX extension page on how to integrate other payment methods and services.




Payment Link

PagBrasil also has a Payment Link solution. The Payment Link takes the customer to a secure payment page to pay a specific transaction. Merchants can generate Payment Links via API or manually via Dashboard, without the need of any technical integration. The solution can be used for sales via call centers or offline sales. Additionally, boletos bancários can also be generated offline. The web-based tool generates boleto URLs that can subsequently be sent by email, SMS or messenger to consumers.
Support Team
Our support team is committed to promptly respond to any request from our clients and to offer assistance. If you have any questions during integration, you can count on us to help you set up our fully optimized payment system.
Reporting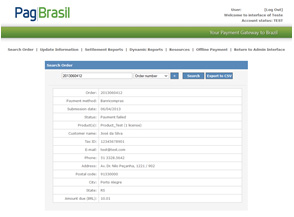 Sales and transaction status data is available at any time via our API and the web-based PagBrasil Merchant Interface.
The PagBrasil Merchant Interface gives our clients the possibility to search for specific orders and to generate real-time reports, download them and view them in Excel or other applications. In addition, reconciliation reports for each settlement period are made available for download.