The Ecommerce Foundation has recently released the Brazil 2019 report, which provides an overview of the ecommerce market in the country and industry insights, along with experts' opinions and advice. Ralf Germer, CEO and cofounder of PagBrasil, shared his point of view on payment methods in Brazil, along with tips for ecommerce businesses aiming at the country's market.
"Cross-border businesses targeting the country must make sure they are aware of all that is implied in selling to Brazil, from import taxes to currency conversion and moving money out of the country," said Mr. Germer. According to the entrepreneur, partnering with local service providers for payments, logistics and marketing, among others, is an excellent way to avoid the hassle.
Report Highlights
With a population of 212 million, internet penetration in Brazil reaches 70%. In addition, B2C ecommerce turnover is expected to reach nearly USD 21 billion by the end of 2019, representing a 1.10% growth on E-GDP.
Top categories
The report shows that, by the end of the year, 50.6% of the online population should have shopped online. Household appliances is the most purchased category by revenue share, representing 19.6%. Telephone and mobile phones come in a close second, with 18.2%, followed by home furnishing and decorations (10%), computers (9.6%), and consumer electronics (9.5%).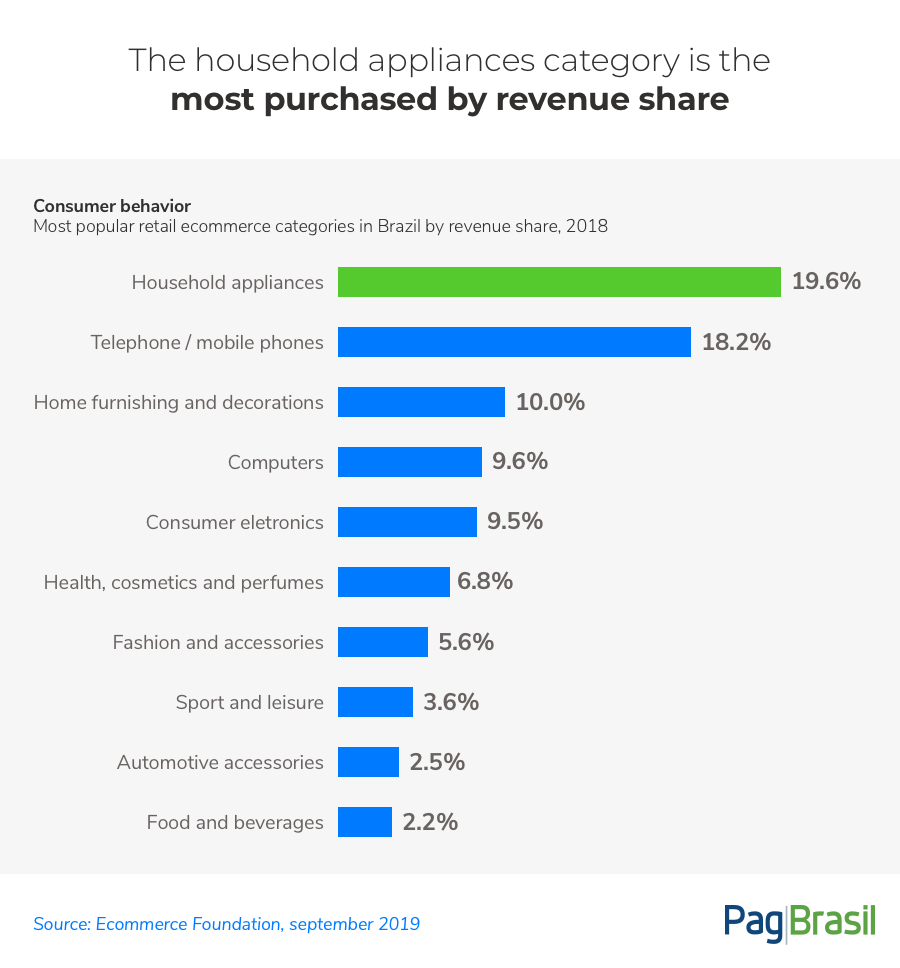 M-commerce revenue
According to the Ecommerce Foundation, mobile ecommerce sales revenue is forecast to reach USD 18 billion by 2022. In 2018, m-commerce revenue reached USD 9 billion. In addition, the report also brought insight into consumer behavior: in 2018, the top five most popular categories in mobile commerce among smartphone buyers in Brazil were clothing (51%), consumer electronics (47%), meals (37%), cosmetics and personal hygiene (33%), and fashion accessories (32%).
Revenue on selected days
Brazilian ecommerce revenue experiences a significant peak during particular days: the 2018 Black Friday generated USD 671 million – a 23% growth when compared to the year before. The 2019 edition shows a promising forecast: more than 48% of online customers plan to shop on Black Friday exclusively on online stores.
The final weeks of the year are also a profitable period: ecommerce in Brazil registered USD 655 million during the Christmas season. Mother's Day generated USD 544 million, followed by Father's Day (USD 539 million) and Children's Day (USD 508 million).
To access the full report, go to www.ecommercewiki.org