The digital world is changing at a fast pace around the globe. The recently launched Digital in 2019 report, by We Are Social and Hootsuite, gives us updated insights into all things digital worldwide, from internet penetration to smartphone and social media usage. As we did with last year's edition, we have compiled the main stats found in the report about digital in Brazil as of January 2019. Check them out.
Digital in 2019 | Annual Digital Growth
– The country's population grew by 0.7%, to 211.6 million people.
– 10 million more Brazilians now have access to the internet, a growth of 7.2% in comparison to last years' report.
– There are 7.7% more active social media users in Brazil, totaling 140 million users.
– There was a decrease in mobile subscriptions of 2.9%. However, there are still more than one mobile device per inhabitant in Brazil. The decrease is probably justified by the increase in smartphone usage. It is common for phone operators to offer free of charge calls for numbers with the same operator, so Brazilians tend to have more than one subscription for savings purposes. However, with a smartphone, users can rely on mobile data to make phone calls, eliminating the need for multiple subscriptions
Digital in 2019 | Internet Penetration and Usage
– Internet penetration has reached 70% in Brazil, above the global average of 57%. More than 149 million out of the country's nearly 212 million inhabitants are internet users.
– 85% of internet users in Brazil browse the web every day.
– Brazil is second to the Philippines in terms of hours spent on the internet. Brazilians spend a total of 9h 29 min per day on the internet, way above the global average of 6h 42 min.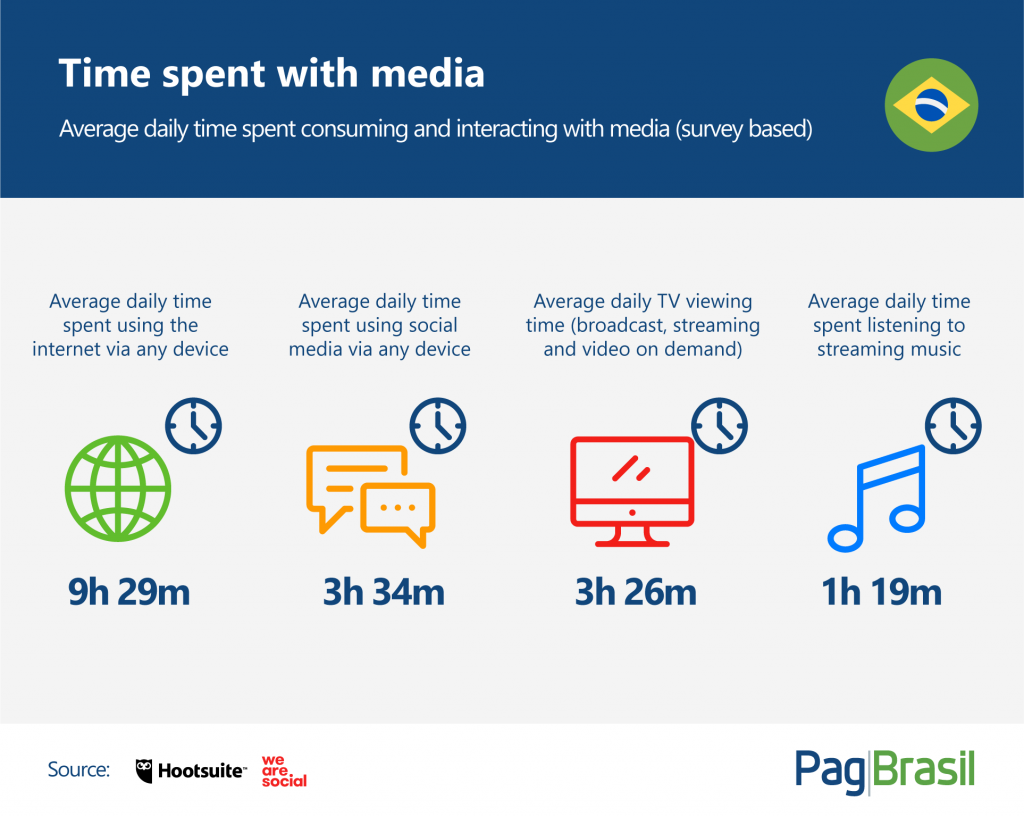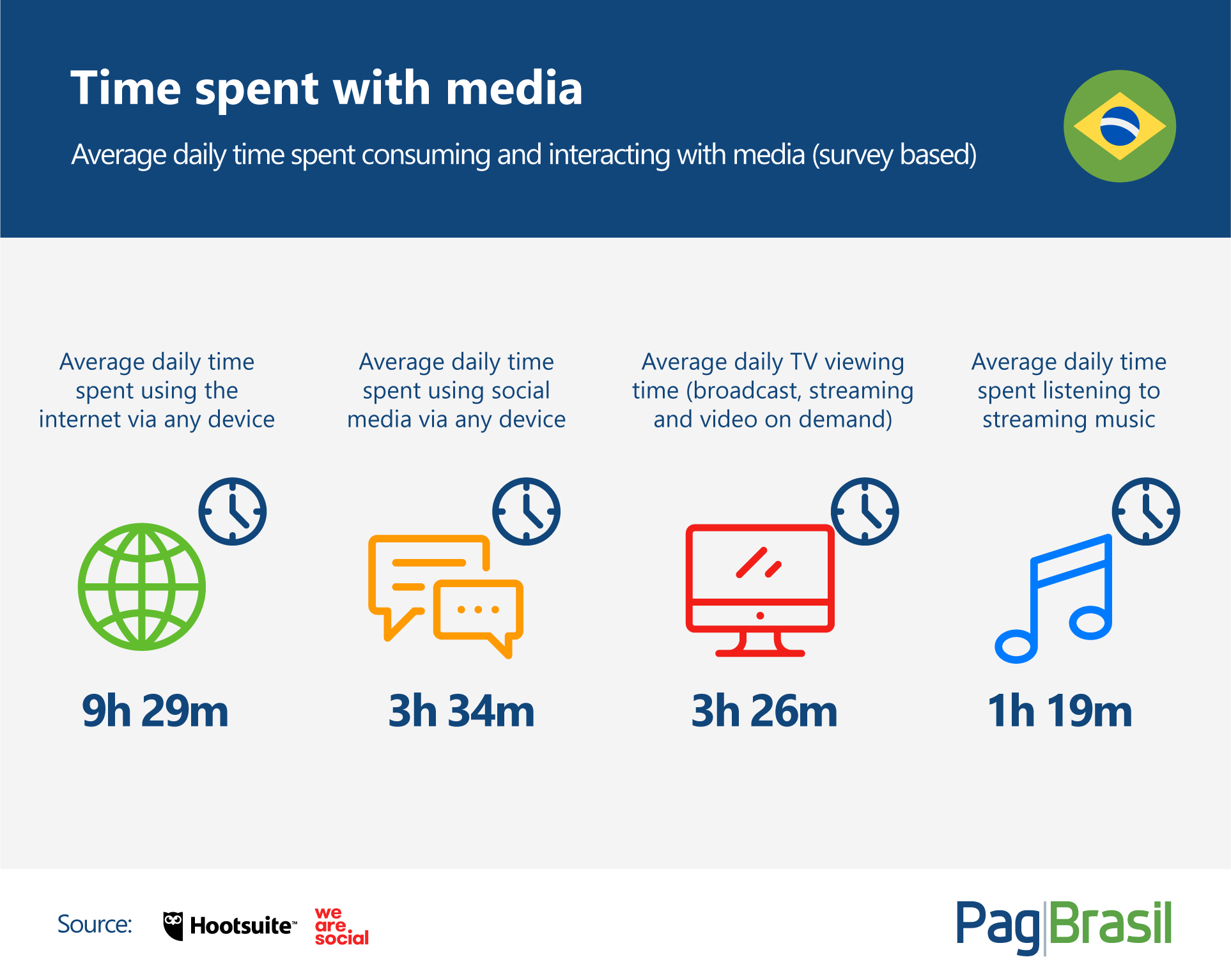 Digital in 2019 | Mobile Phones
– 66% of all Brazilians are mobile internet users.
– Brazilians spend 4h 45 min each day on the internet on their mobile devices. This represents just over 50% of all the time they spend online every day. Brazil is the third country in mobile internet usage in the world, behind Thailand and the Philippines.
– 61% of all Brazilians access their social media accounts through mobile devices, an increase of 8.3% in comparison to the previous year.
– There are 215.2 million mobile connections in Brazil, which represents a penetration of 102%.
– The majority of Brazilians own a pre-paid mobile phone, 63%. This places the country under the global average of 75%.
– 61% of internet users in Brazil use mobile banking.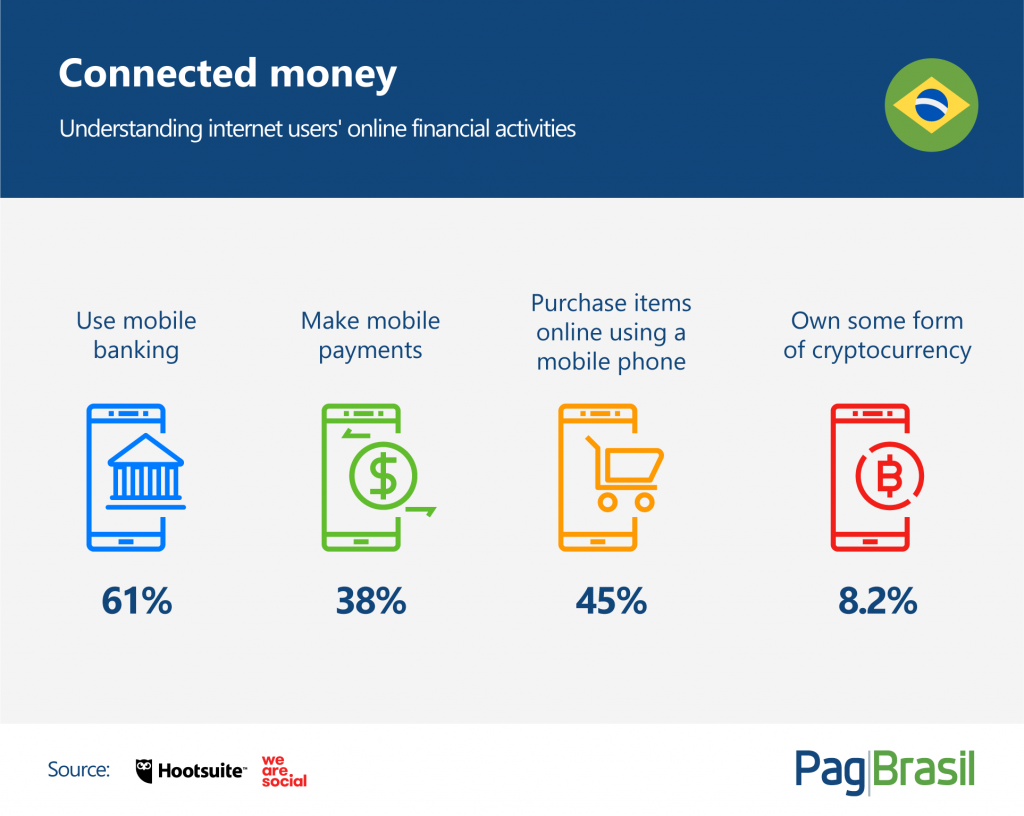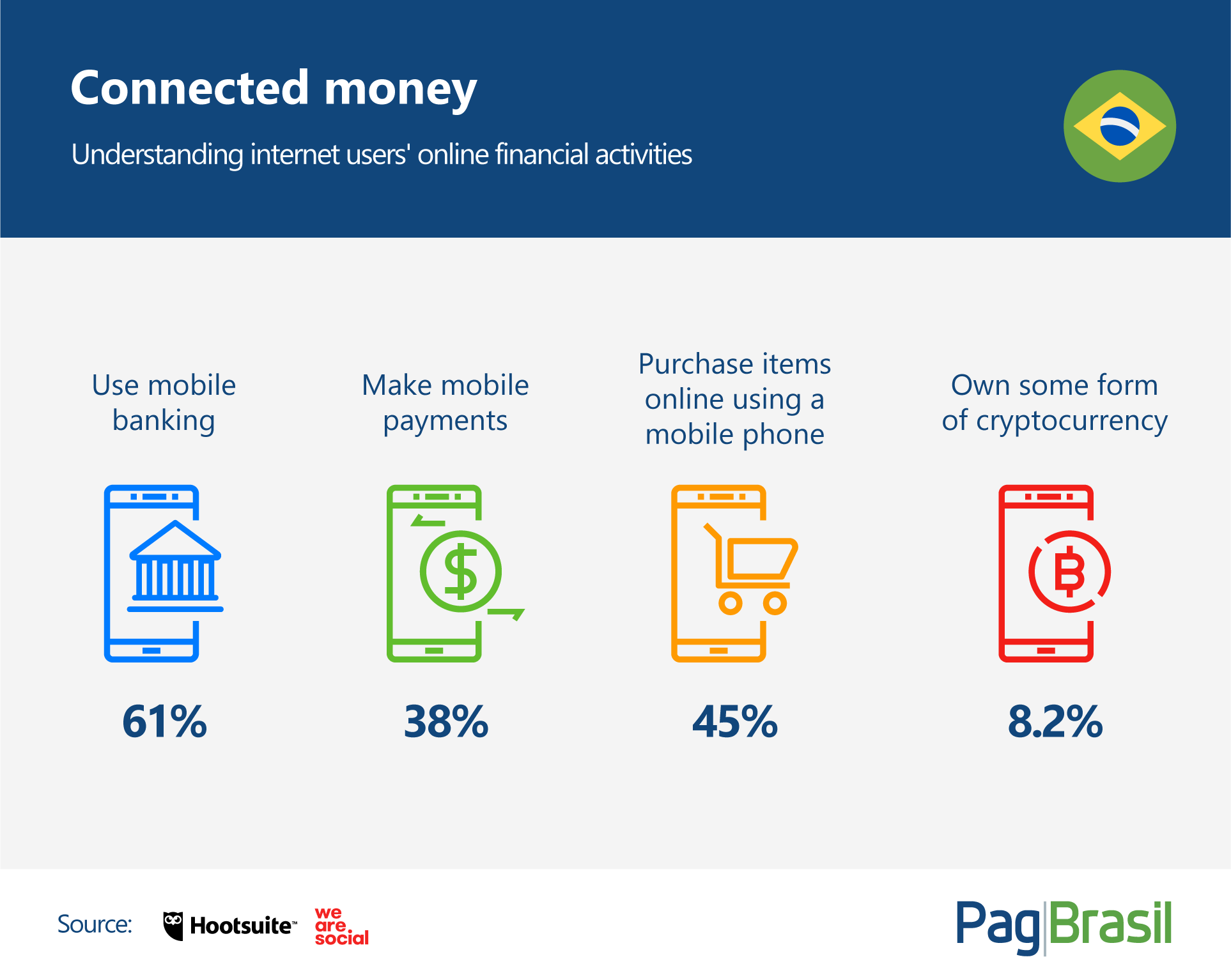 Digital in 2019 | Social Media
These are the most used social media platforms in Brazil: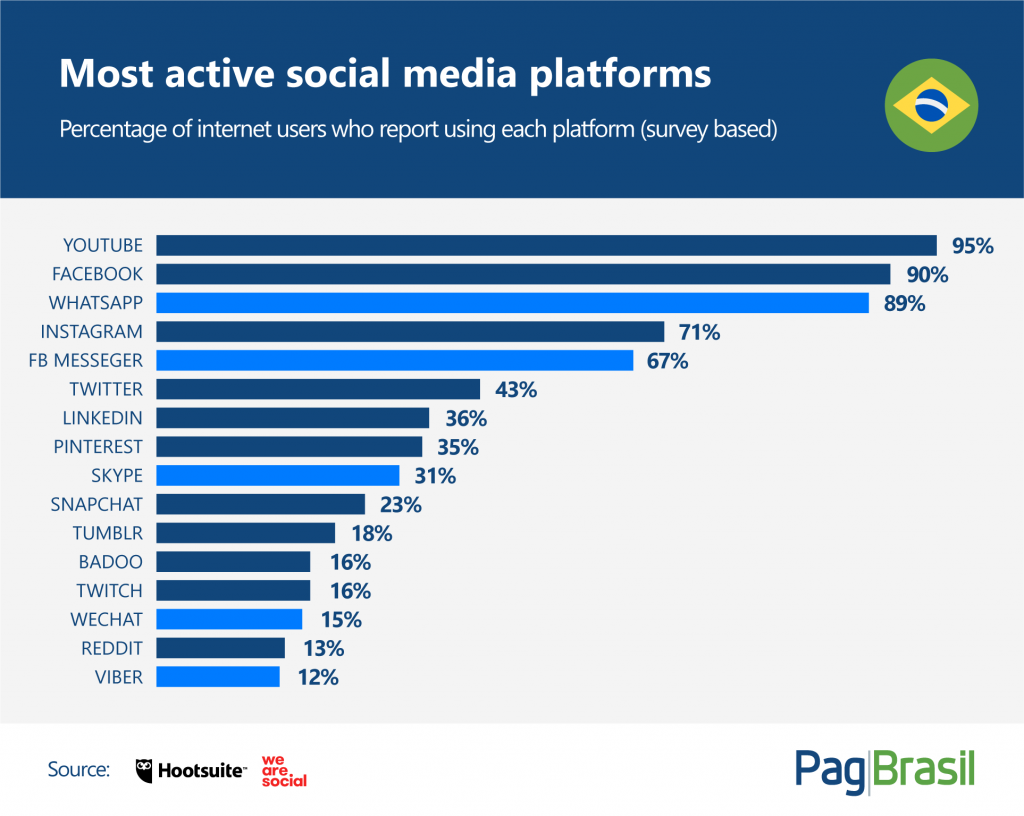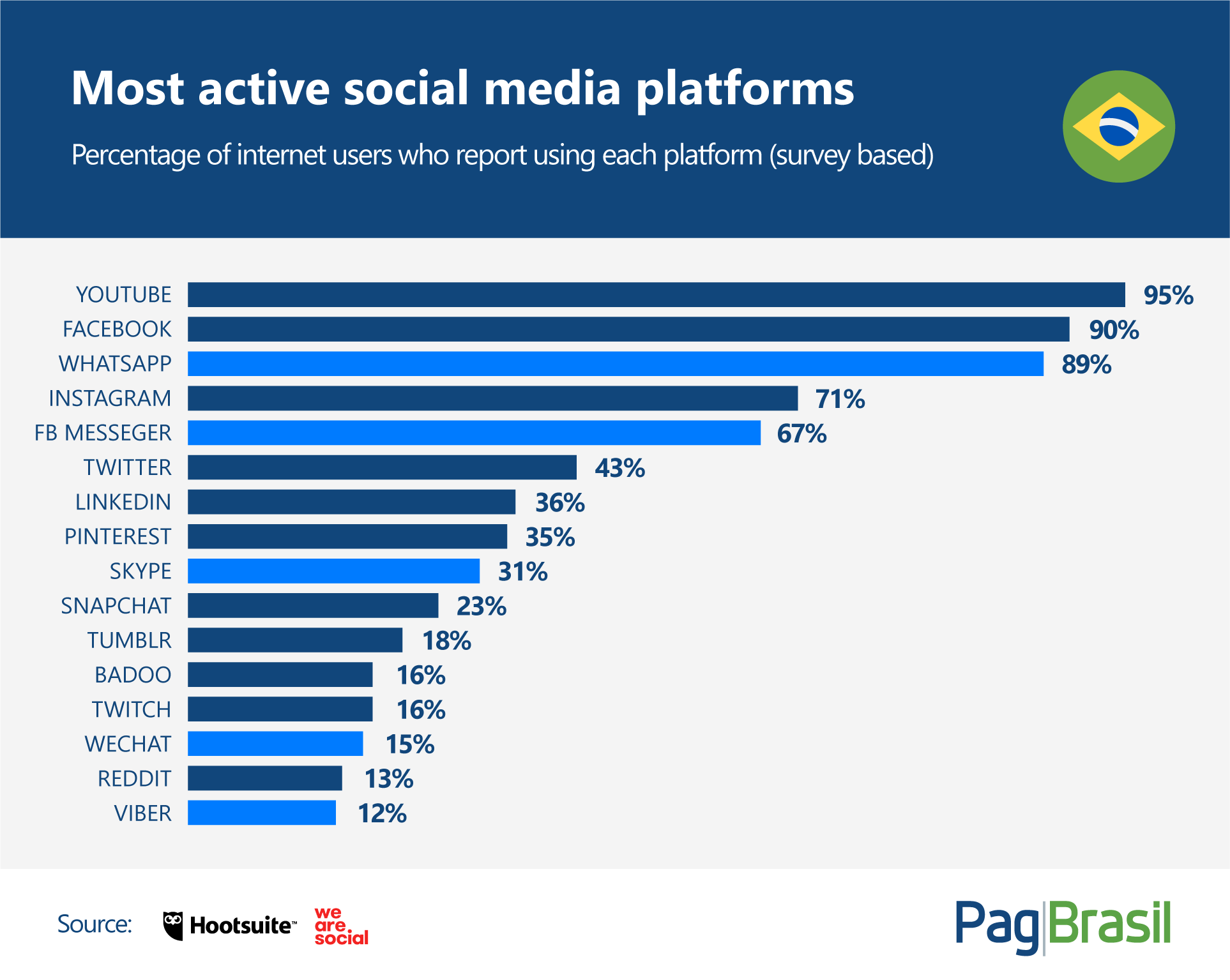 – 81% of Brazilians aged 13 and above are active on social media, against 58% worldwide.
– When taking into account the entire population, social media penetration is 66%.
– Brazil ranks second in terms of hours spent on social media platforms each day: 3h 34 min.
– Brazilian internet users have an average of 9.4 social media accounts.
– 130 million Brazilians are on Facebook and 69 million are on Instagram.
– The average organic reach of Facebook page posts in the country is 8.5%, against 8% globally.
– Facebook page posts have an engagement rate of 4.22% in Brazil. Worldwide, the average is 3.75%.
– For video posts, the engagement goes up to 6.74%.
Digital in 2019 | E-commerce