Each year, more and more Brazilian consumers take part in Black Friday sales. This year's Black Friday was another great success for online businesses selling in Brazil. Overall, the segment registered an increase in sales of 10.3% in the country, reaching a total volume of BRL 2.1 billion in revenue, according to E-bit.
For PagBrasil and its clients, it was also an amazing day. PagBrasil recorded 130% growth in the number of successful transactions in comparison to Black Friday 2016. Just as last year, credit cards were the preferred payment method, representing 81.6% of the payments processed by PagBrasil. This number represents an increase of 272.5%. Boleto bancário remains the number two alternative for paying for the bargain deals, being used in 12.8% of the transactions.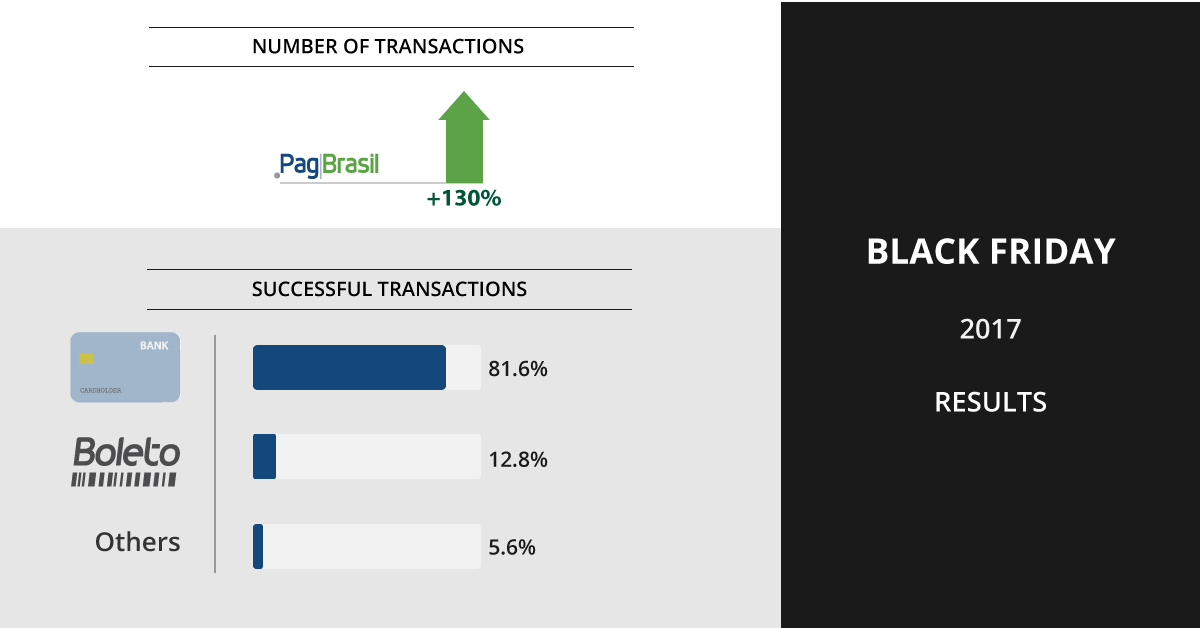 88% of the buyers who paid with credit cards opted for a one-off payment, against 12% paying in installments. Brazilians are used to installment payments and E-bit's pre-Black Friday research indicated that 62% of the consumers who intended to pay with credit cards were planning on using such option. PagBrasil's results point in the opposite direction, but this is likely due to the nature of the products or services sold by its clients, which often have lower transaction value.
Other Highlights of Black Friday 2017

The overall growth of Black Friday 2017 in the country falls short of E-bit's pre-Black Friday forecast for this year, which expected an increase of 15% in revenue. In addition, the final results pointed to a decrease of 3.1% in the average transaction value (from BRL 580 to BRL 562) as opposed to the 6.4% increase forecasted.
Another highlight of Black Friday 2017 was the increase in transactions completed on mobile devices. Nearly 30% of the purchases were made using such devices, which represents a growth of 81.8% compared to last year. Furthermore, the m-commerce segment represented 26.5% of the total e-commerce revenue, an impressive growth when considering that in 2013, for instance, it only represented 4.4%. Repeating the results from last year, the product categories with the highest transaction value were appliances, telephones and mobile, electronics, IT and home and furnishings.
Ralf Germer, PagBrasil's CEO, comments: "We are thrilled with the sales volume our clients generated via PagBrasil's payment platform this Black Friday. The results point towards a consolidation of this date as a massive shopping day in Brazil. We are also happy to see that the e-commerce sector continues growing and the m-commerce segment gaining more relevance. This highlights the importance of a seamless payment experience for purchases made on mobile devices, regardless of the payment method chosen by the buyer."