Starting with PagBrasil is Quick and Easy
PagBrasil / How to Get Started
How to Get Started
Start boosting your sales in Brazil quickly and easily by adding domestic online payments in just three steps with our payment gateway integration.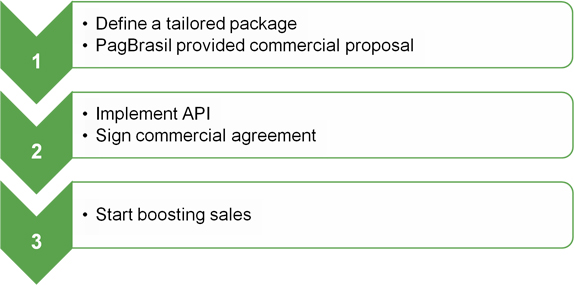 Contact us now to get this going.


Define Tailored Package
Tell us your requirements and we will compose a tailored package of features for your business model. We are flexible and want to meet your needs in the best possible way.


PagBrasil Provides Commercial Proposal

We will provide you with a commercial proposal that is tailored to your specific needs.


Implement API
We will quickly open a sandbox account for you, so that you can start the payment gateway integration. You can easily implement our API, iFrame or plugins for Magento, Shopify, WooCommerce, Shopware, OpenCart or Drupal. Our integration is simple and you will have personalized support throughout the entire process.
Sign Commercial Agreement

While you implement and test the technical setup, we will provide you with a draft of the commercial agreement.


Start Boosting Sales
You're ready to go live! When you have finished testing the integration and have signed the commercial agreement, you can switch from your test account to a live account and start boosting your sales immediately.