Shopify is one of the most popular e-commerce platforms and is becoming increasingly more significant for merchants using social media, particularly Facebook, as their source of sales. Thanks to its Shopify Facebook store option, retailers can easily set up an online store on the social media network to start selling their products online. Furthermore, merchants with Shopify-powered online stores can also easily create product landing pages that can be used as a sales page for Facebook ads. Merchants selling to Brazil are experiencing great success on Facebook, both on their Facebook stores and through Facebook ads.
According to Euromonitor International, Brazilians are more receptive to online ads, with roughly 35% of internet users viewing targeted ads as privacy invasion. As a comparison, nearly 55% of users in the UK consider such ads as privacy invasion, just as 50% of users do in USA and France. The numbers explain the good results Shopify-powered businesses experience in Brazil with their social media strategy. In addition, offering local payment methods both on Facebook stores and landing pages is essential to multiply sales. PagBrasil's Shopify plugin is fully compatible with both alternatives, allowing merchants to accept payments with domestic credit cards, local debit cards and alternative payment methods such as online banking transfer and the exclusive Boleto Flash®, the enhanced form of boleto bancário, with payment confirmation in less than two hours.
How do Shopify Merchants Implement their Facebook Strategy?
Setting up a Facebook store with Shopify is fairly easy. The process can be divided into three steps:
Choose the pricing plan that best fits the business' needs.

Log in to Shopify and once logged in connect the Facebook account to create the tab shop on the Facebook page.

Load product data and use Shopify as usual (including payment set up and fulfillment options).
For the landing pages, there are several apps that can be found on Shopify's App Store to assist merchants with this. In addition, it is always possible to just create a new page on Shopify dashboard. Regardless of the option chosen, Shopify landing pages created for Facebook ads are proving to be very successful in the Brazilian market, with merchants enjoying outstanding conversion rates, especially those offering local payment methods. In addition, such strategies are working particularly well for businesses operating on a dropshipping model.
What is Dropshipping?
Dropshipping is a logistic management technique where the store doesn't keep the products it sells in stock. When a product is sold, the merchant orders it from a third party who does the shipping directly to the store's customer. It works like this: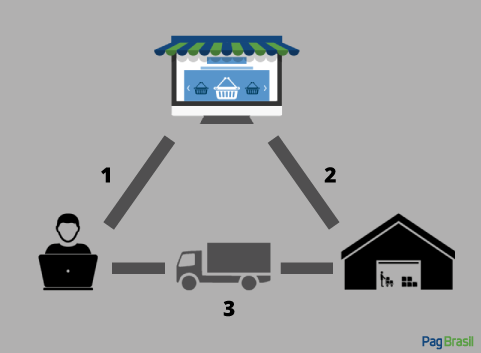 Basically, (1) the consumer accesses the online store website and makes a purchase. (2) The merchant receives the order and payment confirmation and manually or automatically sends the information to the dropshipping parter. Finally, (3) the dropshipping partner handles all the logistics and sends the good to the consumer.
In order for this model to be fully successful, it is crucial that merchants choose a good and serious logistical partner, who not only provide a quick delivery but also proof of deliveries. Overall, it is always best to opt for a partner with warehouses near the destination, as this can be a key point for success. For instance, many merchants working with a dropshipping model have partners in China and for this reason it can take 4-7 weeks for the goods to be delivered in Brazil. In these cases, such long waits can cause discontent among Brazilian consumers and the online stores must be prepared to provide an excellent customer service to appease their clients and not get a bad online reputation.
It is worth noting that PagBrasil's Shopify plugin can also be used by merchants operating with a dropshipping model. If you need more details about how to use our extension with Shopify's Facebook store, Shopify landing pages and/or dropshipping, do not hesitate to contact us.