Do you know there are 150 million internet users in Brazil? This is one of the effects of digital in Brazil.
Brazil is a huge opportunity for e-commerce businesses. With a tech-savvy population, a wide penetration of mobile devices and an enormous consumer market, e-commerce merchants looking to expand to new markets should have Brazil among their top choices.
We have recently collaborated with Ecommerce Foundation at their Brazil Ecommerce Report 2018. Here are the main highlights we took from the report on the country's ecommerce market.
Digital in Brazil: a highlight of connectivity and device usage in Brazil
Want insights on LATAMs largest ecommerce market? Check out the infographic we have prepared with the main digital stats in Brazil: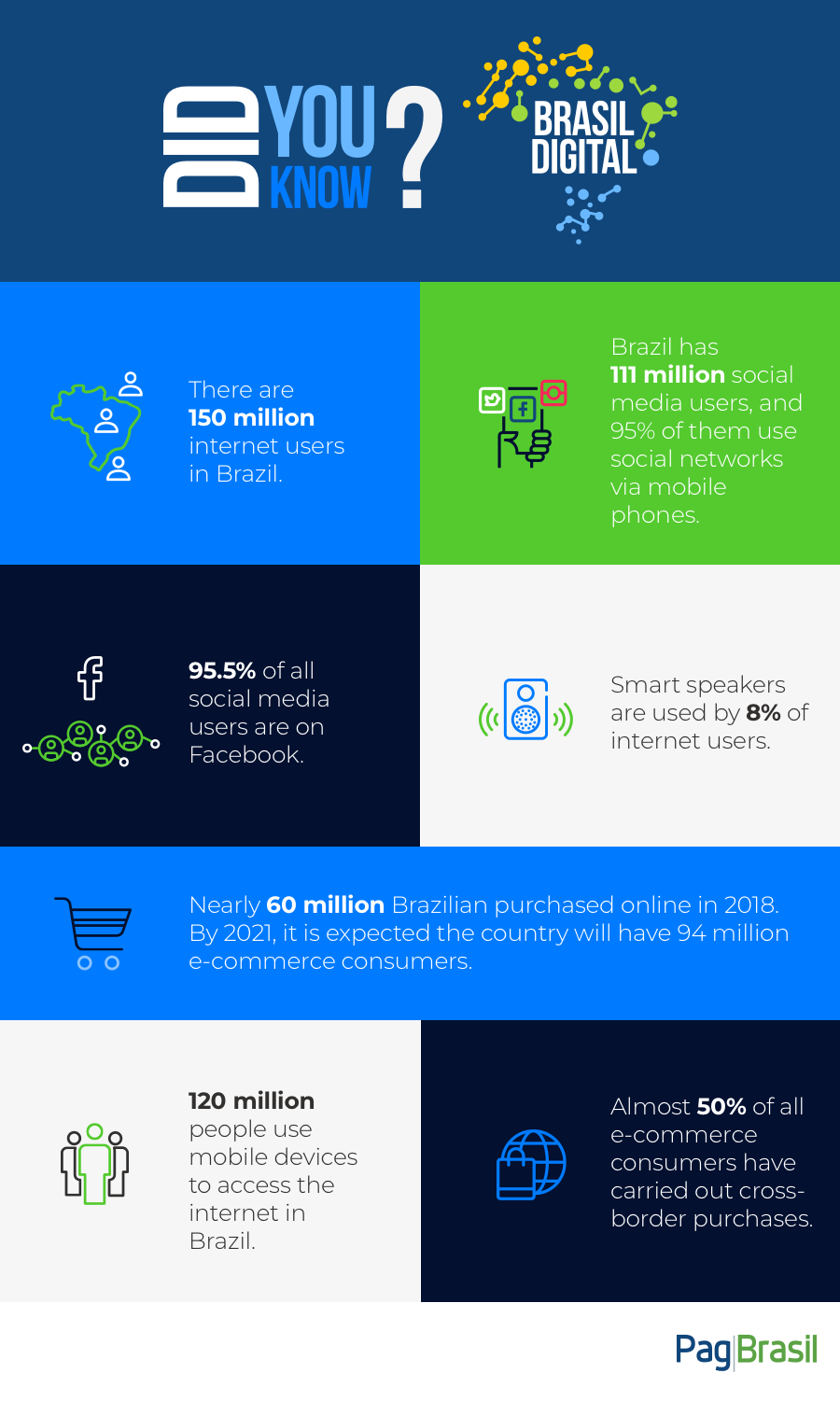 What is shaping cross-border ecommerce in Brazil today
Over 50% of online consumers shop cross-border only, and 40% shop domestically and cross-border. Asia is the preferred destination for cross-border shopping, with 35% of market share, followed by North America (21%).
However, businesses targeting the Brazilian market will face a few challenges: according to Ecommerce Foundation, delivery time accounts for the biggest barrier for cross-border businesses, followed by import and shipping taxes, unclear information about import taxes, lack of security and unfavorable exchange rate, respectively.
Brazilian ecommerce consumer habits
Mercado Livre is the leading online retailer in Brazil, with 27.7 million unique visitors. As for spending, the most popular categories among Brazilian e-shoppers are household appliances and clothes.
M-commerce has shown significant growth: in 2017, mobile e-commerce accounted for 25% of transaction volume. This represents a 9% growth when compared to the year before.
For more about the Brazilian e-commerce market, you may check out Ecommerce Foundation's Brazil Ecommerce Report 2018. Click here for the highlights, or here to download the free edition of the report.