Managed Split Payout Solution for Marketplaces
PagBrasil / Products and Services / Split Payout
PagBrasil's Split Payout Solution for Marketplaces
Marketplaces have become very popular in recent years, and with that, the term "split payout." A payout in this scenario refers to the transfer of the funds collected for a payment transaction. Split payout, as the name suggests, indicates that a given payment is split between two or more individuals. In the e-commerce segment, this payout modality is essential for marketplaces, where consumers buy goods and services made available by multiple providers. Therefore, marketplaces need a solution that manages the entire payment flow, from payment processing and collection to the payout to the sellers, and that also allows them to receive their marketplace commission.
Marketplace businesses range from giants like Amazon or Airbnb to smaller companies with a more local oriented operation. PagBrasil's split payout solution is secure, complies with PCI DSS Level 1 and the Brazilian Central Bank rules for marketplace payouts.
Characteristics of PagBrasil's Split Payout Solution
Unlike the process used by marketplaces such as Uber, Peixe Urbano, Groupon, Netshoes and B2W, which first receive the full amount of the payments themselves and then proceed to carry out the payouts to their providers, PagBrasil's split payout solution is completely automated and managed by PagBrasil. This automation means that marketplace owners don't have to worry about payouts. PagBrasil will handle both the payouts to their providers and the commission payments to the marketplace itself, therefore facilitating the clearing process for marketplace businesses.
Thanks to API integration, PagBrasil's solution gives marketplace owners full control and the room to flexibly define the entire payout process. The solution can be completely integrated with the marketplace's business backend or platform, and the marketplace only needs to send via API the amount to be transferred to each payee. In addition, the system gives marketplace owners a full reconciliation report so that they can have total control of the money collected and paid. This is key to facilitating a company's accounting processes.
It is also worth noting that our secure marketplace solution comes with a payee validation process that complies with current anti-money laundering legislation and regulations.
This is how PagBrasil's split payout solution works: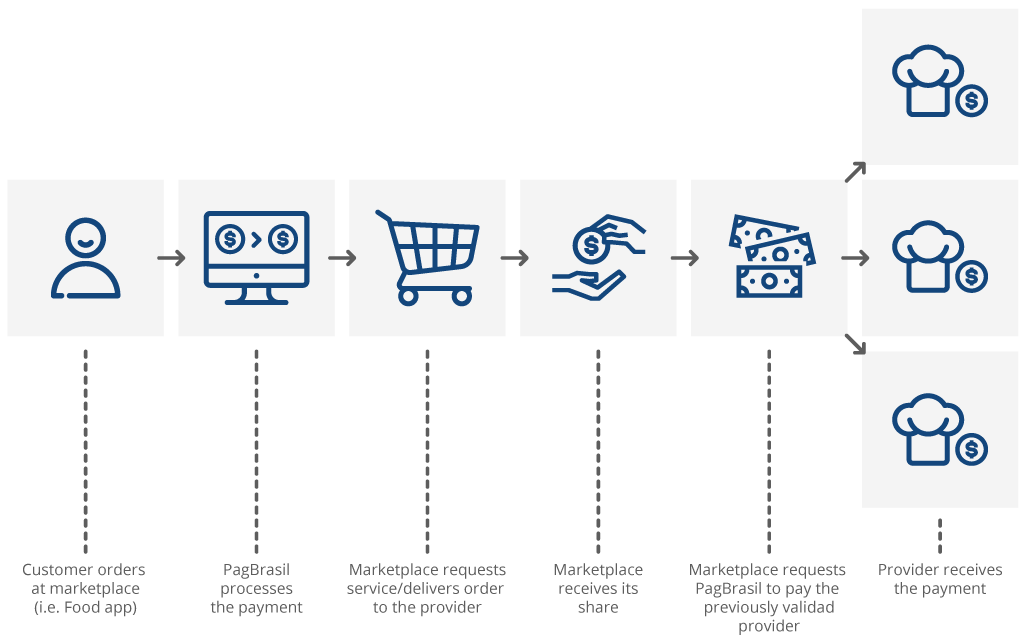 Why Choose PagBrasil's Solution for Marketplaces?
Multi-setting split payout


As PagBrasil operates both locally and cross-border, there are six different split payout scenarios that can take place:

Both the marketplace and the provider are located in Brazil

Brazilian marketplace with a foreign provider

International marketplace with a local provider

Both the marketplace and the provider are located in a foreign country

Brazilian marketplace with providers in Brazil and in a foreign country

International marketplace with providers in Brazil and in a foreign country
Full compliance with Câmara Interbancária de Pagamentos (CIP)

Although the Brazilian Central Bank has extended the deadline, giving businesses until September 2018 to finish implementing the new system, PagBrasil's split payout solution is already fully compatible with the new regulation. The Câmara Interbancária de Pagamentos will be responsible for centralizing all transaction settlements, and businesses that work with split payouts must implement changes to their business processes, as well as technical setup, to comply with the legislation that requires the central liquidation via the CIP.
Full payouts control

Marketplaces have full control over their business rules for payouts. Payout instructions are sent to PagBrasil via API and the split is done automatically.
Automated and flexible payouts

As marketplaces have full control over the amounts and the beneficiaries for the payout transfers, they enjoy much more flexibility in defining their own business rules. In addition, it can be an entirely automated process that runs in the backend.
Stable platform

Our redundant server platform, hosted at different geographic locations, is extremely reliable, with an uptime of 99.98%.

Maximum security

PagBrasil is PCI DSS Level 1, version 3.2, certified by Trustwave. Thanks to the highest security standard available in the payment industry, merchants enjoy the maximum security.
Contact us to find out more about PagBrasil's split payout solution for marketplaces.