PagBrasil makes sure that your data is secured at the highest levels of protection
PagBrasil / Infrastructure and security
Infrastructure and Security
Infrastructure
PagBrasil's state-of-the-art payment platform is based on more than 20 years of online payment processing experience in Brazil. The scalable infrastructure is capable of processing hundreds of transactions per second and is directly connected via API to the leading credit card acquirers and banks in Brazil. Our redundant servers are located in the USA and Germany and guarantee maximum uptimes. Our payment platform is completely developed in-house. Independence from third-party solutions makes us one of the most flexible and cost efficient payment service providers in Brazil. Having full control of all systems and not depending on third-party software also guarantees the highest level of security. PagBrasil can handle whatever processing scale your company needs.
Security
PagBrasil makes sure that any data is secured by the highest levels of protection:
• Full PCI DSS compliance certified by Approved Scanning Vendor Qualys.
• Encryption of all traffic all the time.
• SHA-256 SSL certificate signed with 2048 bit signature.
• Up to date and constantly monitored systems.
• Several authentication layers to prevent unauthorized access. Restriction by different factors, such as IP, MAC address, strong passwords, etc.
• Different levels of authorization to restrict access to sensitive information.
• Encryption of all sensitive information stored.
• Proprietary security platform to avoid the common scenario of unknown opened ports left by third-party software.
• Frequent network scans by McAfee for vulnerabilities.
• Servers located in data centers that are SSAE 16 audited – an enhancement to SAS70. That certifies the integrity and security of our servers' data centers and our compliance with the data privacy and data security compliance regulations.
• Comprehensive log files that are regularly monitored.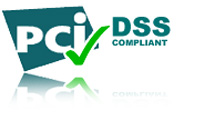 Fraud prevention
We offer optional fraud prevention, if the merchant wants his transactions to be verified carefully by manual and automated procedures. Fraud screening is done before a transaction is submitted to the acquirer.
Basically we check if all the information provided by the customer is consistent and reliable.
Information such as tax ID, mailing address and phone number are verified, along with many other verification procedures developed during more than 20 years of screening online purchases. For security reasons we can't disclose details.
Contact us now for additional information.